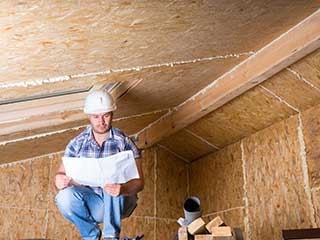 Sometimes Things Go Wrong
Unfortunately, there are a lot of factors that can negatively affect your home's insulation. If pests have gotten into the area it can cause a lot of problems, particularly with rodents. They will rip it apart to use for nesting, creating holes and drastically lowering the integrity. They also tend to contaminate it and other parts of your attic with their waste, which carries diseases that can get into your home. Water is another issue, as if it leaks in from the roof or otherwise, it will get absorbed and damage the material. It also creates a breeding ground for mold that's harmful both to your house, and those inside it. Even age takes its toll over time, degrading it until it slouches out of place and leaves cold spots to allow air out.
Getting It Fixed Is Important
Any harm to your attic's insulation puts your home at risk for higher energy spending as well as issues with temperature regulation. If it's not working as it should, air will get out of the house rather than remaining inside to circulate and regulate the temperature. Your air conditioning and heater then work for longer to make up for it, which is how energy, as well as your money, is wasted. If you notice that your bill is rising steadily, and the temperature is inconsistent depending on the room, it's time to get it checked out.
We Can Take Care Of It
Whatever the trouble, our professionals will have it fixed up in no time! We can install fresh insulation into new buildings or those who have had what was there already taken out, remove anything that's been damaged, and replace it with something brand new that will better help your home's energy spending. We'll help you determine what type is best and have it done before you know it. We'll ensure there's no cross-contamination, and that it's done right the first time so it will last.
Contact Us Today
Call us at Duct & Attic Cleaning Experts, Houston, now and we'll get right to work!