Air Duct Leak Repair
Service Request: The customer started feeling a strange smell and getting a stuffy feeling inside one of their house rooms. He also found the room took forever to cool.
Our Solution: Air duct leaks cause increased energy bills because they prolong the time it takes your HVAC system to bring the temperature to the desired level. Leaks in the air duct also allow particles from inside the ductwork to escape into your indoor air. We located the source of the leak and sealed it tightly to ensure it would stay secure. We then performed a thorough cleaning of the air ducts at the customer's request.
Wayne Watkinson
- Clodine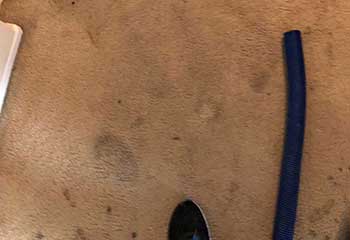 Rug Pet Stain Removal
Service Request: Mr. Devine returned home to find that his new puppy left quite a mess on his area rug.
Our Solution: While pet stains can seem nastier than other types of carpet stains, treating them thoroughly requires similar procedures. We used a special dissolvent to wash off the puppy stains on the rug, then applied a sanitizer (non-harmful and non-damaging to fabric) on the area, and quick-dried the spot to prevent the liquid from damaging the area rug.
Todd Devine
- Mission Bend