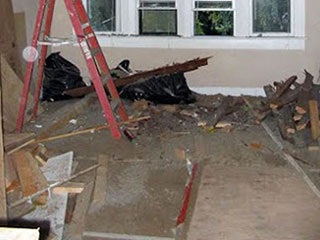 Keeping our house clean is keeping our house healthy for us to live in. When it comes to our attic, keeping it clean doesn't end with sweeping the floor or dusting the book shelves once a month. The attic is the upper, outer shell of the house and it contains the insulation that separates it from the outside, which, as suggested by its name, is designed to keep the structure sealed and insulated. When it is not completely so, the attic and eventually the entire house are exposed to dust and wetness which can facilitate the growth of severe bacteria that in turn, will contaminate your home.
Any step along this unwelcome road is a good time to call for attic cleaning services. To help you make the right call at the right time, here are 3 signs that indicate your attic needs professional cleaning.
Noises Coming from Upstairs

Once the insulation is breached, you will start hearing the wind whistling from upstairs, especially during the night. Usually the nights are quieter and it is easy to hear even the slightest gusts of wind urging forward through small cracks and holes. Such noises mean that air is freely flowing through the attic and that the insulation is no longer fully intact.

Wetness and Dark Stains on the Attic's Walls

Once the noises are followed by wetness or dark marks on the attic's walls, it means the condition has worsen and now not only air freely comes through the ceiling, but water is, as well. The combination of these two signs should be enough for you to call professionals to check the attic and its insulation. Neglecting matters at this state will only lead to even worse situations.

Unpleasant Smell at the Attic

The third sign is a bad odor coming from the attic as the stains on the walls become darker and darker. The nasty smell usually indicates that your home is now contaminated with mold or other fungus or bacteria. This is a severe condition that might end with sickness and illness harming the house's residents. As this sign appears alongside the others, it is essential for you to call for attic cleaning services. Otherwise, you will be neglecting the health of both yourself and your loved ones, as your house is already an unsafe place.